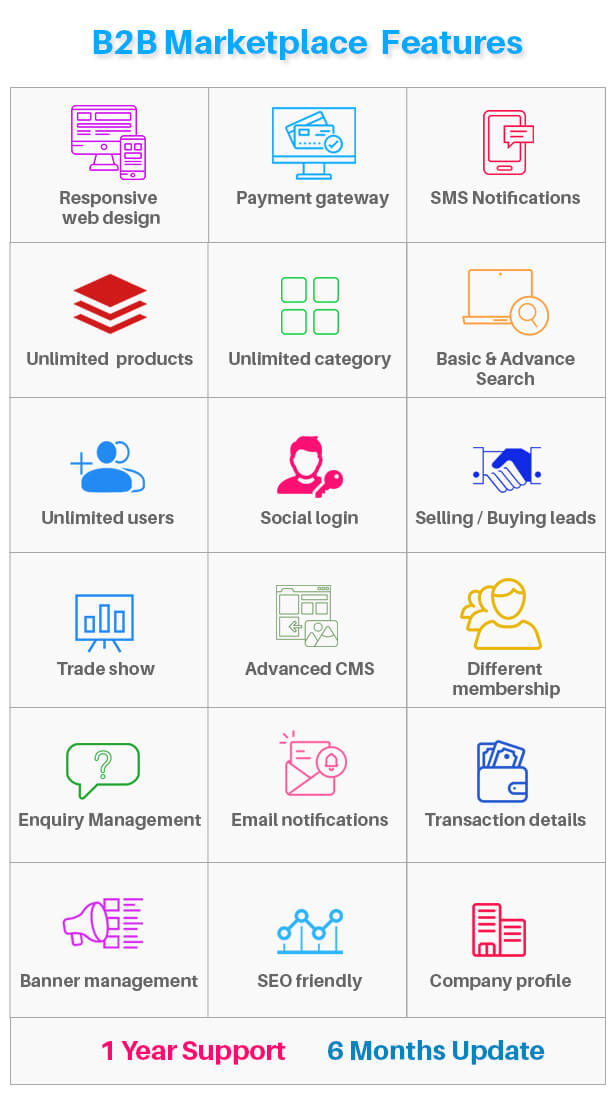 On constructing a B2B marketplace platform out of 10, 7 clients failed due to lack of business insights. So it is right to dig deeper to analyze the affinity category of the end user. Directory listing business figures out the data of around 59% B2C platform, 37% B2B platform and outstanding quota 4% combination of B2B and B2C. According to the marketing researching, B2B ecommerce industry will rise to $700 billion by the upcoming year 2020 from $300 billion. As the statistics report encourages to build a merchant website at an ease. It is damn sure venturing the B2B ecommerce platform have tremendous growth in the near future. Based on your budget you can venture business plan as a small scale or large scale enterprises.

The user can find suitable categories such as mobile, automobile repair service, business audit services, stationery, cleaning services, education & training, transportation & logistics, technical products and more on. So that sellers can choose the category and they can post their product with image, price, description, and features with the respective manner. So that sellers can get leads easily this will help organization can improve their functionality and growth. Our B2B Marketplace Script includes an in-build discussion form, so it helps people can interact easily through all over the world and also they can communicate with marketplace trend, trade show, and other important information for B2B markets also it supports unlimited categories to serve happy clients.

In Open Source Marketplace B2B Script the admin can easily handle and manage the category detail, membership plan detail, inquiry detail, featured product detail, general setting and more on. It encourages to handle services includes product management, order management, success story, trade show, newsletter, CMS management, feedback management, member management, enquires, company management, buying and selling lead management, cart option, browse and list product by all the category and more on.

For recurrent revenue process, we offer the different type of revenue models like Google AdSense, a commission from the vendors, banner advertisement, affiliate ads and more on. Admin can manage overall website statistics and user member data.

B2B Directory Script is developed in PHP and MySQL platform and possess flexible high-end customization according to the client's requirements and business goals. It is the smartest ecommerce solution derives 16+ many years of experience handles with different ecommerce platforms, year by year mainstream based on the demand of market to feel a good new experience completely. We made it convenient usability for both user and admin for the journey of better ecommerce purchase shopping feel.