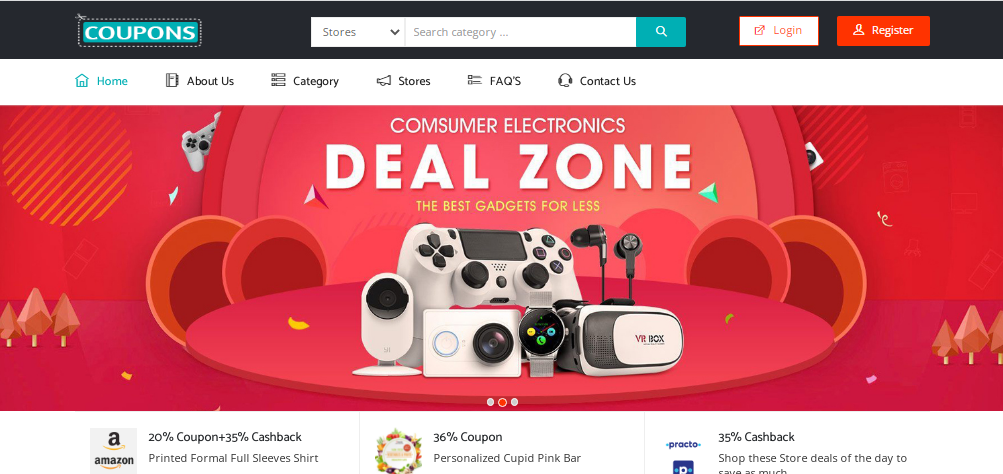 Everyone would like to get discounts when they are purchasing and find the best deals. So this is the best opportunity to rank your Coupons, Discounts and Offers web site such like cashback website. It is easy to distribute coupons and offers coupons for users and it has given total privilege to the site admin to manage all entries. Cashback Script PHP is one the most preferred choice for any clients across the globe. This cashback solution website is rich talent pool, our company has delivered successfully running cashback solutions website. Cashback Engine is having feature rich PHP script that allowing you to run your own cashback website! Cashback is when you receive money back after a purchase. This software has allowed visitors to earn cash back rewards and save money on their everyday shopping. That is why cashback websites are a great way to make money and this allows to premium coupons shopping experience and referral earning system also here.
Cashback Engine is an awesome cashback script that is very easy for installation and administration. Try the Live Demo and enjoy by using our powerful cashback script. It has created with most modern technology, compatible with every major browsers and SEO friendly. It has professional features, excellent design & periodic upgrades make this cashback script the preferred choice for everyone. This Cashback Comparison Script is fully automated solution with power packed features that are upgraded on regular intervals. As a result this ensures a low operational cost and increased ROI for a cashback website owner. Furthermore its robust framework supports seamless integration with any affiliate network and is compatible for Android / iOS app development. In addition, automated bank transfer module, multi payout system & e wallet integration are some of the premium features of this Cashback script.
User can check the earning details here. It contains cashback earnings, referral earnings, available balance, side bar have the earning details and FAQ questions and answers. Through this website the sales and the commission are tracked through API and commissions credited to member e-Wallet. In this page contain User referral cash back link and referred friends count shown here. User able to invite friends from gmail contacts option, Invite by multi email newsletter option.