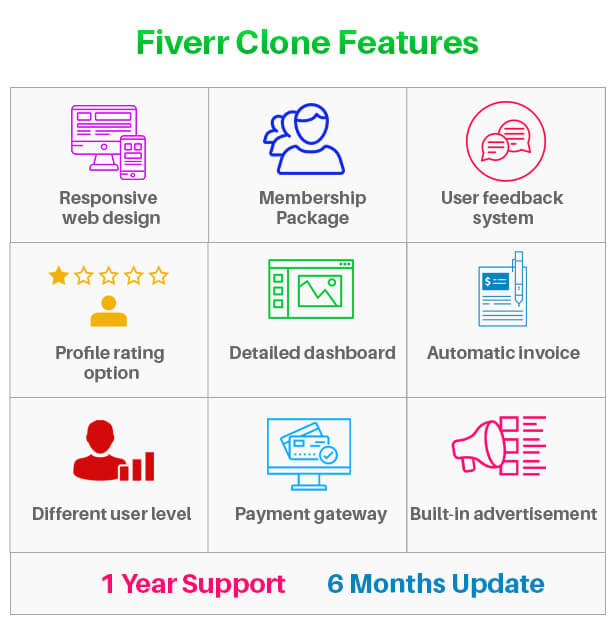 Fiverr Clone Script is based on micro jobs portal script; it allows your visitors to post jobs that they like to get done. Instead, visitors is able to search the specialized and experienced to do particular job and they are engaged them for fixed value or amount. Entrepreneurs and freelancer are using this Gigbucks Clone Script to monetize their skills and talent. Customers get commission for their services that service commission directly through the site and admin can specify the different price for their jobs. This script has assisted this website to perform the user buy and sell the micro jobs by using the terms of gigs. It has rich features and help to manage the jobs portal quickly and easily.
Micro job Website is the global market and it facilitates you to make your own unique business with micro job website within very short period. Gigbucks clone script has many different features and it helps your website to reach and achieve the high position in micro jobs competitive filed very faster. It is possible to use this single script with splendid clone script having many kind of business perpendiculars like industry for making service, man power consulting, art, education field, entertainment etc… gigbucks clone has some of the significant features and management systems like Plugin-friendly, jobs/gigs management, Request management, activity management, social marketing, deep insights, categories management etc…
Micro Jobs Script is now and rides on the emerging trend in the field of micro job outsourcing. The Fiverr Clone Script has high feature-pack and easy to use for both admins and your users. Comparing to other fiverr apps is not only having the amazing low price but also the scalability of this software that allows you to run with member based. Micro job includes rich features like PayPal payment gateways, Alertpay integrated, template-based, multi-language, video support, and gigs sharing in social media. Banner management, SEO friendly URLs etc… this job can be in a form of design work, video recording and advertising or any quick task.
3 months Technical support
Brand free
Responsive design
Free and paid membership package
User feedback system
Profile rating plug-in
Detailed dashboard
Automatic invoice
Different user level
Multiple third party plug-in support
20 plus payment gateway plug-in
Built-in advertisement