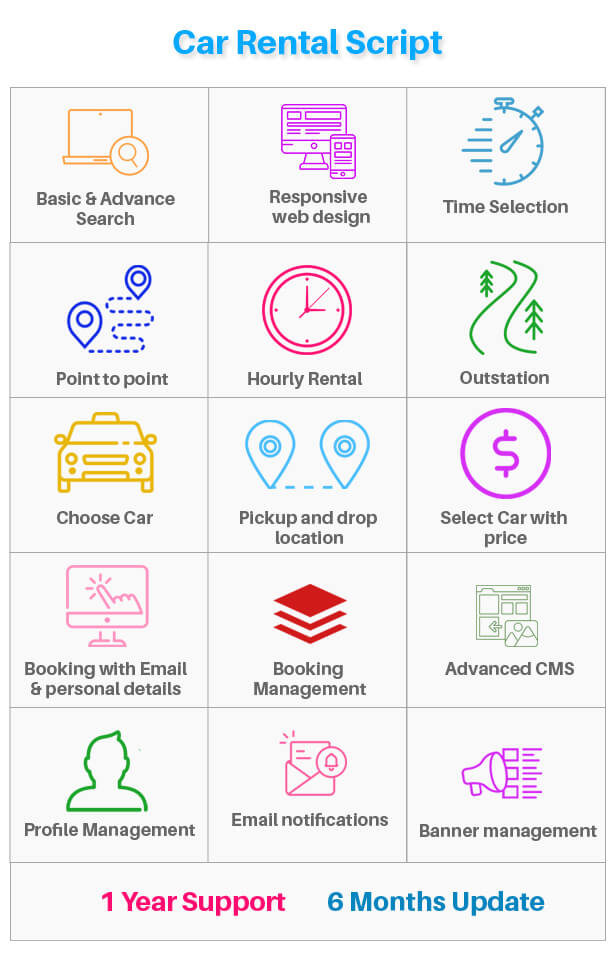 The advanced Car Rental Script is here for the users to book their rental cars from their place anywhere at any time, this script is made convenient for the users to make easy car bookings and to kick-start the car rentals business on online without any technical knowledge about the script, this script also helps the offline car rental owners to start their business online with less investment which results in high return on investment. The Auto Rental Script is customized as per the user requirement with unlimited categories and sub-categories with advanced navigation functionality.
In our Car Rental Software ,the users can register their account with the valid mail id and password, and then the account confirmation is sent through the user account via mail, then the user can also sign in to the system with their social login id. In the user dashboard display they can find the place where they are located pickup place, and then they can find the pickup area, date, time and drop area. The rental portion is classified with the point to point, hourly rental and outstation where the user can easily book their rental booking without any guidelines, this script is designed as user-friendly customization.
This Vehicle Rental Software has the functionality where the users can see made their booking as per their wish by searching their travel car type, seating capacity, rating etc, in the advanced search bar filter to reduce the complexity of the searching. The filtration can also be done in pricing the rentals by day price, highest price and lowest price etc. The user can book the specific pickup and drop place with the desired car by mentioning the landmark of the address and contact number of the user. The booking of the car rentals is sent through the user register mail id.
In this Car Hire Software the user can post their travel experience and ratings on the respective car rental profile. The amount transactions and payment are done through the online secure PayPal payment, the amount of balance is added through the user wallet. The admin can manage the management of the entire car rental site by viewing and managing the statistics of the user and cars. The car management, user management, booking details, rental package management and CMS settings are managed by the admin with user reliable and flexible. We are sure that this script will replace the best rental script of the user responsive and easy way to book their rentals based on the travel package.
This rental software is customized with SEO-friendly URL to make easy access of the site, and also in addition we provide some additional offer with this script by making brand-free site,3 months technical support, 24x7 technical support team help for your solution.